If you are considered getting your driveway of patio cleaned then you have come to the right place, we have many years experience in cleaning driveways and patios for businesses and homes in the Cheltenham area. We take pride in cleaning your driveway or patio to get it back to its former glory again.
Over time it is understandable that your driveway or patio will become dirty, and due to the climate in Gloucestershire and across the UK this can make it susceptible to moss, lichens and other unsightly weeds which can make the first impressions of your property a poor impression. However, not only are yucky weeds and moss an eyesore but it can also cause danger as a slip or trip hazard to your home or business, which will only get worse if you leave it.
We begin all driveway cleaning and patio cleaning projects with preparation which starts with weed killer so that the results are the best they can be. We then cleanse the patio or driveway with our high-tech cleaning machinery before turbo lancing any loose debris quickly and easily.
Patios and driveways will often be block paving and this is laid upon a bed of sand which usually has sand in the joints too, once we have cleaned your driveway or patio we will then re-sand the area and then, if you choose, we can seal your driveway or patio to help prolong its life-span.
Here at Diamond Shine we are specialists in the cleaning and rejuvenation of driveways and patios, with many years' experience, we have the tools and skills that are needed to clean your driveway or patio; bringing it back to its former glory, looking as good as new. Our friendly team of Patio and Driveway Cleaning experts are free now for a no obligation quote.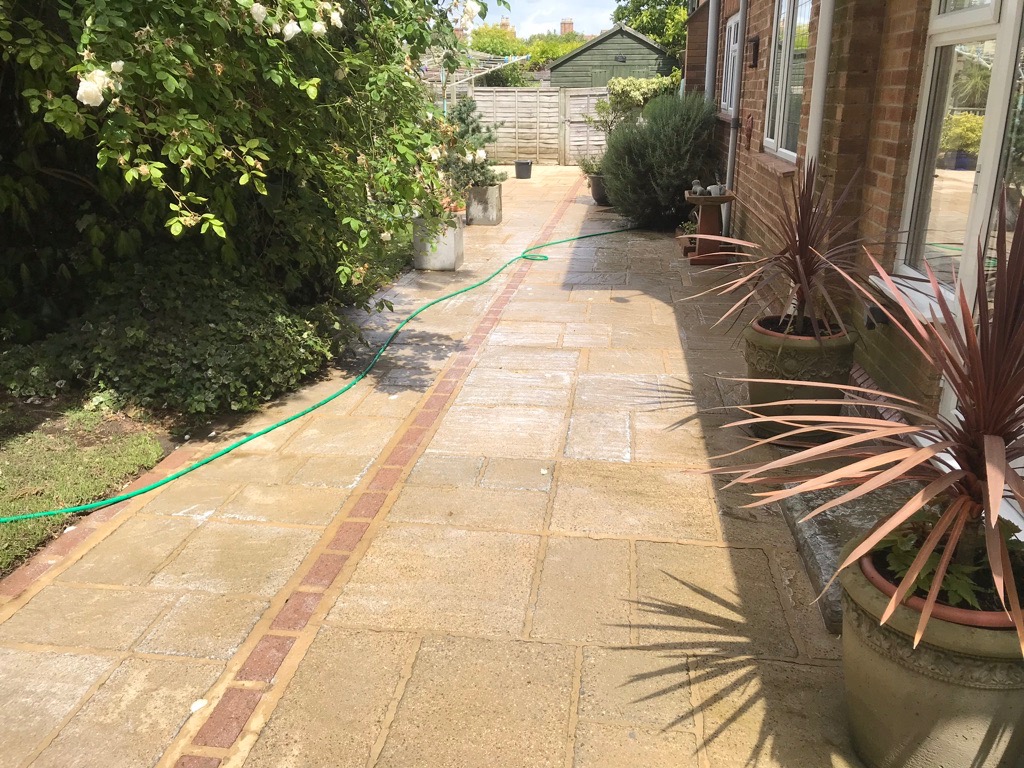 BLOCK PAVING
Block paving is a popular surface choice by many homeowners, However, due to its composition and the way that it is laid, block paving is harder to keep clean. Most block paved drives across Cheltenham & the UK are constructed using porous bricks and in damp conditions this encourages algae and moss to flourish on the surface.
The sand filled gaps between the blocks make it easy for weeds to take root and grow, therefore, to keep its structural integrity, this type of paving does require maintenance.
We are specialists in cleaning block paving and have quality fungicidal cleaners together with the correct pressure washing equipment that will thoroughly clean the blocks without causing any damage. Once clean & dry, kiln dried sand will be swept into the joints and we would then recommend that 1 coat of RESIBLOCK '22' a specialist pre-polymer urethane block paving sealer is applied to set the jointing sand solid.
The long term appearance and durability of any paved surface can be improved by applying a protective sealer. This sealing process will create a non permeable membrane across the surface, reducing the need for regular cleaning and maintenance of the paving.
PATIO & NATURAL STONE
Overtime, dirt and other deposits can build up and these paved surfaces can soon deteriorate and lose colour. Slippery algae, oil stains, moss and weeds all flourish across the surface making the patio look in need of some attention. At Diamond Shine, we can deep clean and restore your patio to the great asset it once was. Having invested in the latest pressure cleaning equipment, we can gently, but effectively clean your patio, without damaging the surface. We can clean natural stone, block paving, imprinted concrete, crazy paving and flagstones.
Once the patio area has been thoroughly cleaned, we would recommend that 1 coat of patio sealer is applied to enhance the natural Colours By applying this additional protection it will not only prevent future staining and surface growth but will reduce ongoing maintenance costs.
IMPRINTED CONCRETE
Imprinted concrete is becoming a popular choice by many residents throughout Cheltenham, Gloucestershire. Due to its strength and durability many homeowners are opting for this type of paving that enhances the appearance of their property and is easily maintained.
When initially laid, imprinted concrete is sealed and should then only require a top up coat of sealer every 3-5 years, depending on trafficking. As hard wearing as this paving is, exposed to the elements without protection, damage can start to occur. The colour can fade and surface deterioration caused by ice and snow can become apparent. To keep your imprinted concrete looking at its best, we can offer a restoration service to areas, where we are confident that we can enhance the look of your driveway or patio to its full potential. After pressure cleaning the surface, any cracks can be repaired using crack repair compound and colour can be easily rejuvenated using a range of colour tints. For optimum results, we would recommend that two coats of sealer is then applied with a anti-slip additive mixed into the final coat.
We endeavour to provide a very professional and courteous service at competitive prices and are continually committed to providing and maintaining the highest level of client satisfaction.
TARMAC CLEANING & RESTORATION
Tarmac driveways offer maximum performance all year round, providing an attractive, versatile and cost effective approach to any property. This is an appealing alternative to paving for many residents throughout Gloucetershire, giving your property that 'kerb appeal'!
When first laid, the tarmac is full of resin and colour, however, over a few years the elements take their toll. The resins dry out, the surface loses colour and surface growth becomes established. The tarmac soon becomes brittle and can start to crack and break up.
To avoid the need for expensive replacement of the driveway, at Diamond Shine, we can offer homeowners in areas such as Cheltenham and Gloucester, a restoration service where faded and stained tarmac can be restored and preserved to look like it was recently laid. Surface growth and oil stains should be pre-treated prior to jet washing, to enable the surface to be cleaned without causing additional damage to to the tarmac. Once dry, small holes can be simply repaired with cold lay repair and cracks easily filled with crack repair compound.
Once repairs are complete, 1-2 coats of Resiblock Resimac tarmac restorer, can then be applied, replacing the lost resins and restoring the colour. It is a fast and efficient system, with minimal inconvenience to the customer. With a top up coat every few years, your tarmac driveway can be totally transformed, returning it to its former glory.